The steady pace of the pandemic is still a concern for many, as the pandemic reaches its 1-year anniversary and much of Ontario still remains in lockdown or restricted. Many young families who were looking to buy prior to the pandemic may have questioned if the housing market would crash resulting in lower prices. Fast forward a year later, mortgage rates are at a historic low however supply is low, and demand is high.
In 2020, the Bank of Canada slashed mortgage rates to a historic low to help ease the pandemic blow to the economy and encourage people to buy homes.
With low mortgage rates, many people who questioned buying a home due to how much they would have to pay monthly were now able to make that commitment by locking in their dream homes with lower interest rates. This has caused the demand for homes to rise while the supply of available homes will decrease due to many factors and COVID. Many people have decided to hold off on selling their homes for fear of not being able to find another home after selling theirs. While others decided to wait on relocating due to their needs changing. During the pandemic, many offices were closed and resorted to people working from home. As a result, the priorities of a family changed from needing to be closer to downtown for work to wanting to have more space to create home offices, entertainment rooms, home gyms, etc. Additionally, delays in construction have been caused due to pandemic restrictions. These factors have caused a disruption in the resale or ready-built market inventory.
Limited inventory has resulted in the market is in favor of the seller. With limited options, more people are vying for the same homes, which means they are offering more than the asking price to secure their desired home. Bidding wars are at a historic high, allowing for homes to be sold on average way above the asking price. If one were looking to buy a home for a certain price, they would now also have to consider either looking for homes with fewer features to accommodate the fluctuation or they would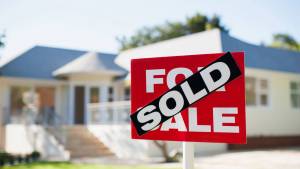 have to adjust their budget and their down payment to afford the same home. This is where, the option of pre-construction, can make your dream of homeownership more viable. With the option of a pre-con, you are able to lock in the price that the home is selling for now, rather than what the home will be selling for in 3-4 years. Based on current trends pricing is projected to increase significantly. Buying a pre-construction can skip you the regret of more time passing and wishing you had purchased at an advantage several years prior. Plus, you can avoid bidding wars altogether.
If homeownership is in your future plans but you find the 20% down payment to be daunting with the current economy. Pre-construction can allow you to still lock-in today's pricing with structured payment plans. This is beneficial for any first-time homebuyers as a payment plan can allow you more time to save while jumping on the market before it inflates further. Furthermore, low mortgage rates can make obtaining a pre-approved mortgage more attainable. Register today for our upcoming projects Countryside Fields, Countryside Trails, and Morrison Springs. Subscribe to our newsletter and get alerts on all of our upcoming projects, forecasted trends, and awesome lifestyle tips with DiGreen Homes.